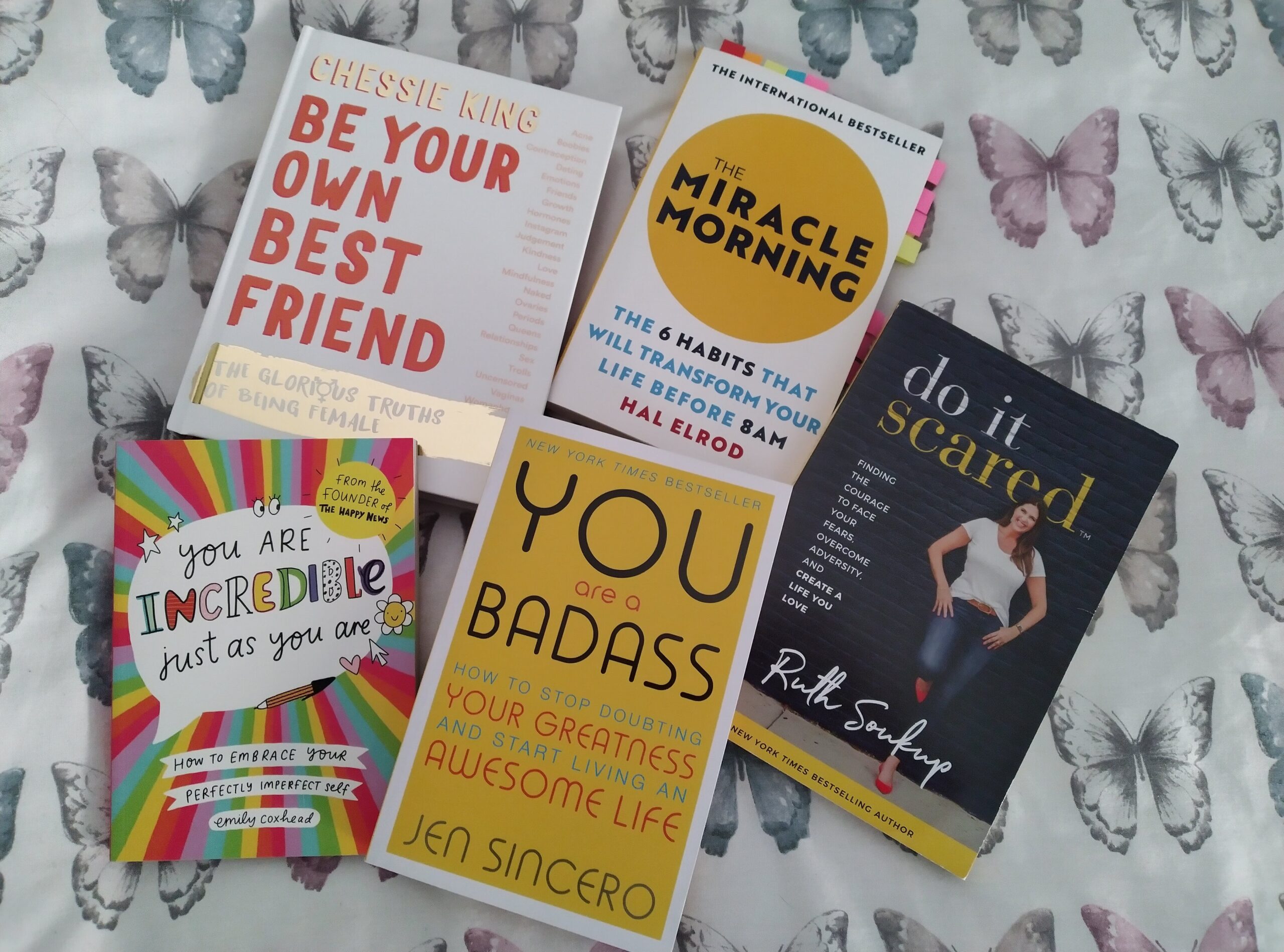 This post is all about my winter reads. I have been aiming to read more and do more activities that get me away from screens for a while. My current employment role is mainly spent on my laptop. After work I watch tv shows and films. I know that needs to change. Especially now that, because of lockdown life, when I communicate with friends and family it is also via various screens.
Multiple lock downs, more time at home to sit with my thoughts. I thought now was a good time to start my reading goals properly. With all the additional downtime I decided to go on a bit of a self-development journey.
Therefore, most of the books I have been reading are to do with improving myself, my inner dialogue and my future. Sadly though as I work full time, have had far too much time in front of Netflix and got distracted by all things Christmas for most of December it has been a rather short list this season.
I have plenty of books on my bookshelf still to read. Not all self help but those are my priority at the moment. Once I have learned a bit more about how to run my own business and improve my mental health I will go back to reading the occasional fiction books as well.
Winter reads
The book I've read over the winter are:
The Miracle Morning by Hal Elrod
You are incredible just as you are by Emily Coxhead
Be your own best friend by Chessie King
You are a badass by Jen Sincero
Do it scared by Ruth Soukup
Miracle morning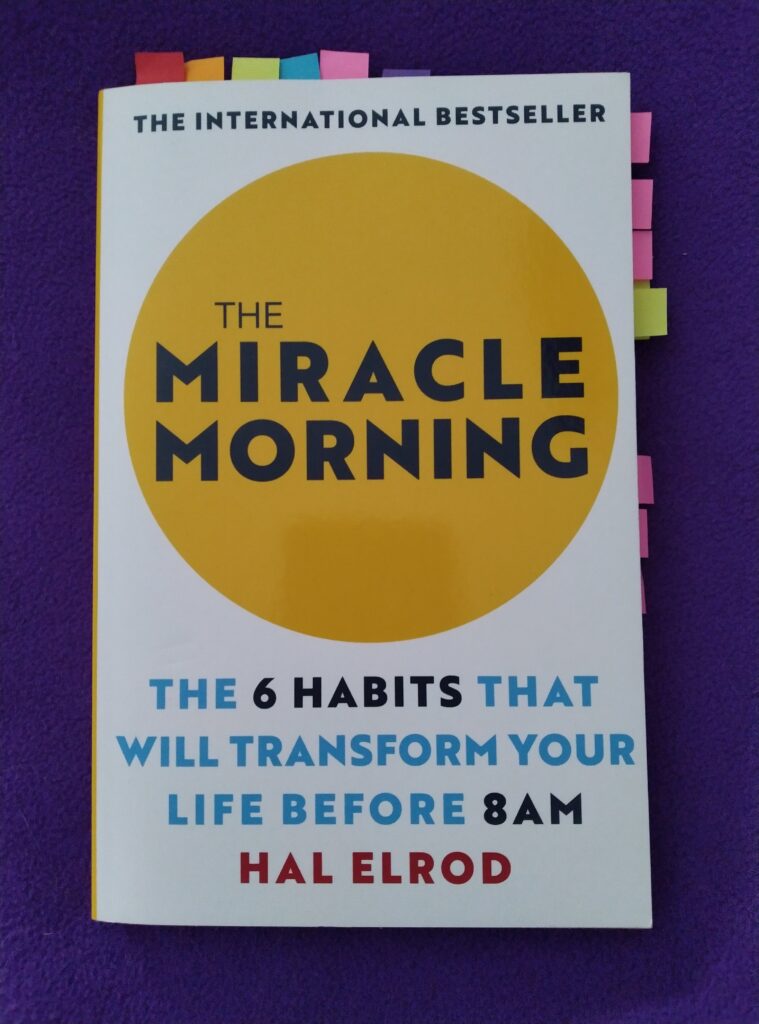 Hal Elrod's story of what he has been through and how he got through it all is remarkable. This book alone has sold over a million copies. There are multiple other versions of this guide book, a movie and other projects in his authors arsenal.
The Miracle morning has so many versions on offer nowadays but I decided to go for the original. The Miracle Morning is a book about how to improve your morning routines to make the most out of your day. I tried this for just a couple of weeks and I felt so much more energized, more positive and more motivated. I was exercising daily, eating better and was even more productive at work. It was such a positive change.
However, I'm not very good at early mornings or changing my routine. I got out of the routine and have felt lethargic since. Getting up in the mornings is something I really struggle with, but knowing how much better I felt having the additional hour in the morning to complete my SAVERS I know I need to restart it.
This was one of my favourite winter reads, purely for the fact I felt so much better when putting the advice into action. A lot of the other books provided more of a theoretical or mental progression rather than physical things to do.
It's 194 pages and I would definitely recommend reading it. I'm thinking of looking into some of the other versions of the book, and the other books from Hal Elrod, so may end up writing on those in later seasons.
You are Incredible just as you are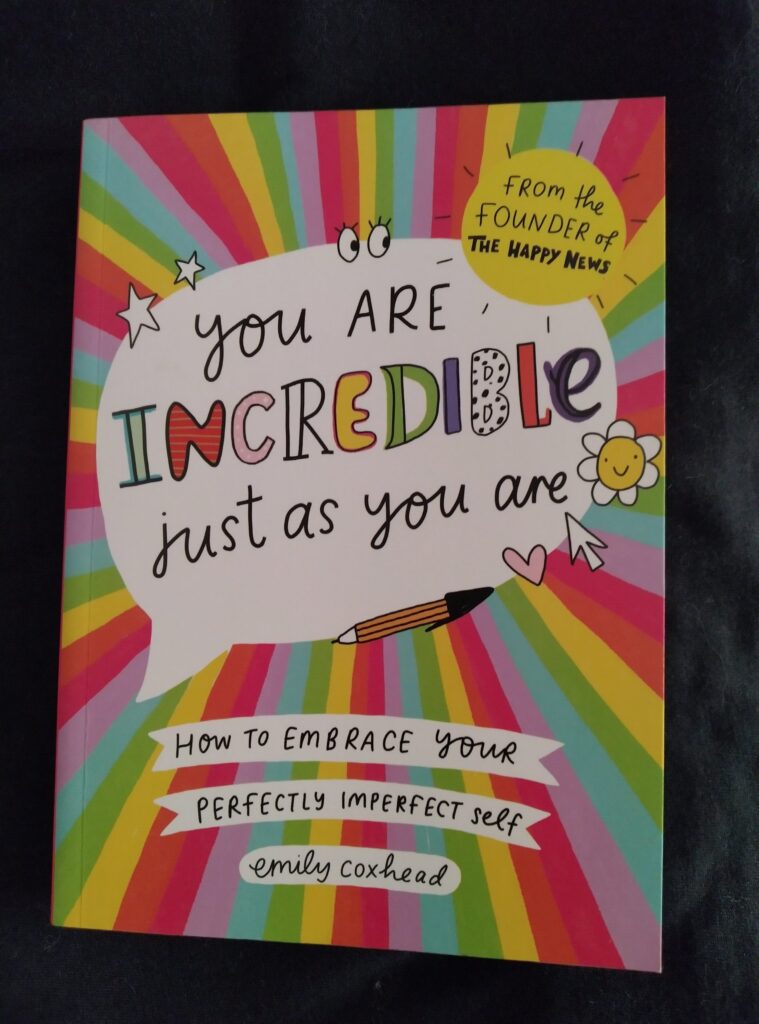 I have been a fan of Emily Coxhead, her quotes and artwork for a while and her Instagram posts always put a smile on my face. It gives me a positive version of the news unlike the actual news. I have also subscribed to her newspaper The Happy News, I love finding out about all the amazing things human have been doing around the world over the months covered in each issue.
Knowing how much I love the content in the newspapers and on Instagram I thought I would buy the book as well. It is only a short read, 174 pages, but it is such a lovely little book. Colourful pages, quotes, activities to fill in along the way and is so uplifting. I think it would make a great gift for someone if you have anyone who needs a little cheering up.
Be your own best friend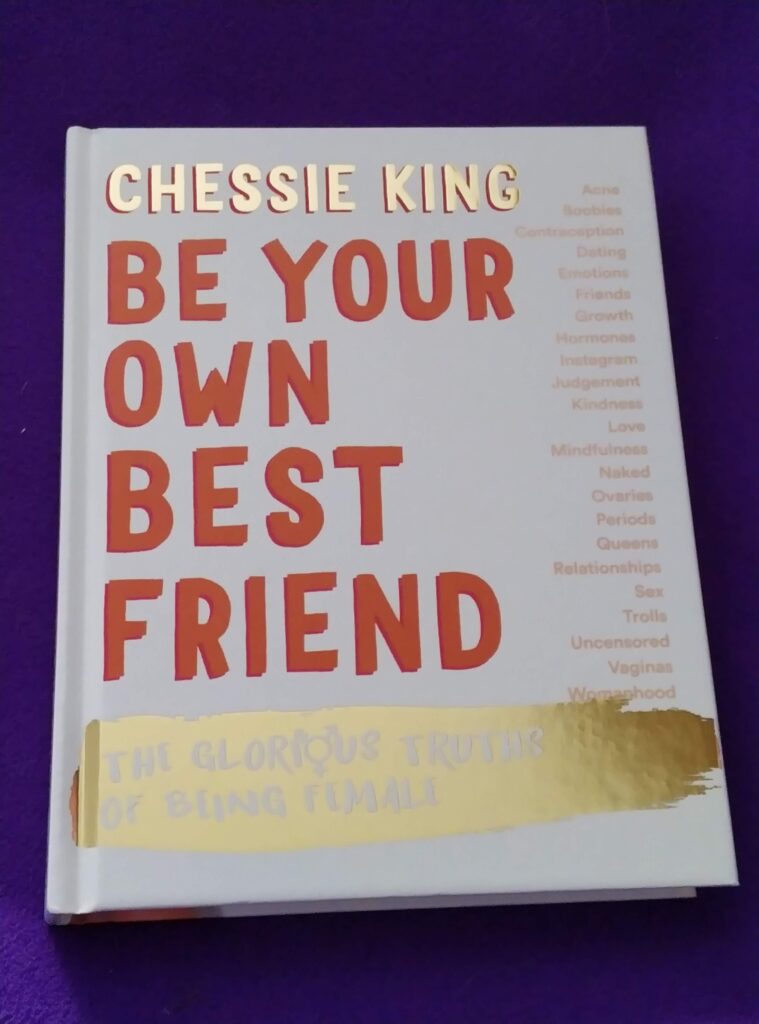 Chessie King is another individual I follow via Instagram for her positivity. Chessie's positivity is focused more of body image and self-acceptance. She has also recently been posting about her pregnancy which is so lovely to see.
Her book covers so many elements within 240 pages. Emotions and feelings. Our bodies. Periods. Contraception. Sisterhood. Friendship. Family. Relationships. Social media. Online trolls. Bullying and lots in between.
The book goes through these topics and talks about how to become best friends with yourself and how/why to accept your body. As someone who has always struggled with self acceptance and body image, this book has genuinely helped me feel more accepting of my own lumps and bumps, stretch marks and wobbles.
You are a badass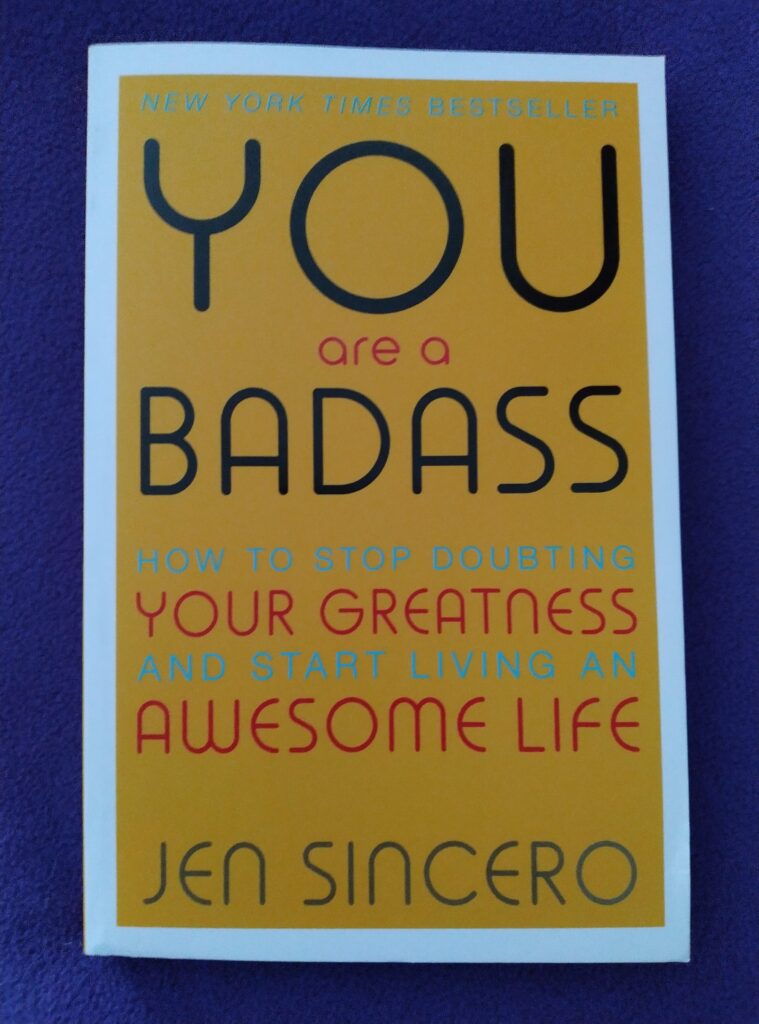 After seeing this book on my recommended lists on multiple occasions over the last few years I thought as part of my self-development journey it should one of my winter reads.
It didn't disappoint. Motivational, gave me lots to think about and the way she writes really engages me. I have some of her other books in my Amazon basket and wish lists.
At 253 pages long, it is the longest of my winter reads but I managed to binge read it in a single weekend. It doesn't have activities to complete but it does have lots of thought provoking chapters.
Do it scared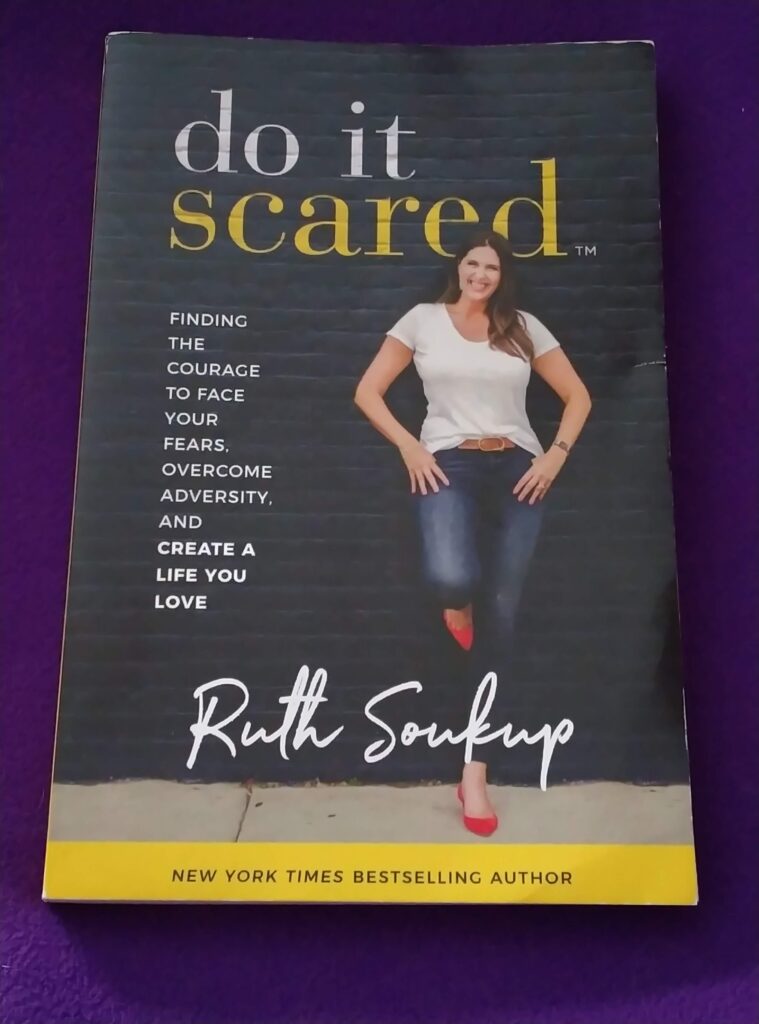 I have been gradually catching up on the 100+ podcasts on Ruth Soukup's Do It Scared podcast on and off over the last couple of years (I go through stages of wanting to listen to podcasts or not). She has some great advice and inspiring guests which all help to motivate me into launching into self-employment. As the podcast has helped me I thought purchasing the book would be a good idea too.
I have completed their online fear assessment and purchased a few of the business start-up kits when they have been on sale. Ruth's resources have been quite helpful in my journey recently. Thanks Ruth.
The Do It Scared book goes through what she calls the 7 fear archetypes, 7 principles of courage. Then it goes through ways of putting your courage into action, all in 235 pages. Reading how my fear archetypes get in my head, and ways of re-framing my mindset to counteract it, has been really helpful in getting my motivation and optimism back. It was actually the thing that got me to search for a domain name and officially start this blog after years of just thinking about it.
Before the podcasts and these books I had just been thinking of maybe starting a new blog and to work my way into self-employment. Now I'm determined to make it happen. You reading this blog proves that I have begun that journey.
In conclusions
5 books over 3 months. With all the distractions I have let myself succumb to it could have been an even shorter list. Hopefully the Spring list will be a bit more impressive. I am still on a self development journey so the spring reads will feature several more 'self help' books.
Have you read any of these? What book recommendations do you have for me to read next?